Jeanne-Marie De Champs is quite lucky to represent a "jewel case" of the finest wine producers in Burgundy and Beaujolais with her Domaines Et Saveurs Collection.
Yet the word "luck" isn't really correct, as it is a matter of very intensely hard work as well to acquire the right producers and work with them successfully. In fact, luck and hard work are far from the only factors necessary to establish and sustain success in the export markets. One needs a tremendous amount of expertise, experience in the wine world, the ability to say "no" and "yes" when necessary (and how to say it), and the ability to be both agile and commanding while of course coming across as charming and elegant.
As a result of her unique skill set in this area, Jeanne-Marie was able to assemble quite a collection of "star" producers. If this was Hollywood, this would be the kind of movie stars who regularly walk down the red carpet.
Many years ago, Jeanne-Marie made a very interesting statement: "I like a good farmer."  Today I understand the full meaning of that seemingly simple statement. In the "New World" it is easy to assume that for the most part, wine is made in the winery. There are always clever new winemaking techniques to use, and an assortment of products to buy and use that can make the wine taste great.
But I believe Jeanne-Marie's philosophy is to really make the foundation of the wine in the vineyard, work as hard as possible with the vines and interfere as little as possible in the winery.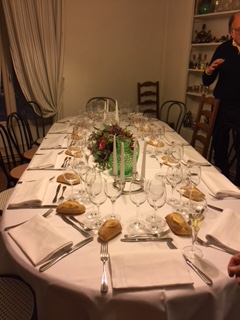 This fall I was delighted to make a visit with Jeanne-Marie to a handful of her producers and taste the new wines in conjuction with the Hospices de Beaune activities, as well as be a guest in her home for dinner with some of the producers as well, such as Anne Parent and Jean-Nicholas Meo, who has wineries in Burgundy as well as Oregon.  As always, Jeanne-Marie was a delightful hostess and you can imagine her stash of Hospices de Beaune wines, and the wines brought by her guests, were first rate.