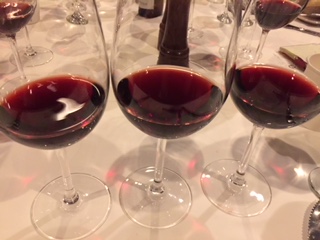 Great Tasting of the entire range of Bel Colle winery, which was founded in the late 1970s by three brothers and won numerous awards before its purchase in 2015 by Luca Bosio, whose family had been growing grapes and making wine in the nearby Asti section of Piedmont since the 1960s.
In any event, this tasting was a fabulous opportunity to try the quality wines of Bel Colle, including fantastic vintages of Barolo and also some fun surprises, namely the family's dedication to the native Pelaverga grape, which was brought to the region in the 17th century. Apparently, it is also considered an aphrodisiac!
With all of the focus today on re-discovering the native grapes of Italy, this was a great opportunity to taste this rare grape. It is perfect for wine bars and by the glass selections.
Another treat was trying the 2016 Arneis, a fresh young white wine characterized by high acidity, minerality, and some citrus aromas and flavors.
The red wines kicked off with the two Barbaresco wines: one was the standard Barbaresco DOCG (2012 Vintage) that spends two years in French oak and quite well balanced; and the other the 2011 vintage Barbaresco DOCG from the Roncaglie vineyards located in the towns of Treiso in the Roncaglie, one of the best areas of Barbaresco production.
The next flight were the three "Simposio" wines, from vineyards located in a number of Barolo villages, all 200 – 300 feet above sea level. The average age of the vines is 50 years. We tried the 2013, 2012, and 2011 and everyone had their favorite for different reasons.
Next came the more cellar-worthy Barolos, including the 2011 Monvigliero Barolo DOCG, which grows in vineyards from the best vineyards of Verduno, located 200 – 300 feet above sea level. Incredibly well balanced and delicious at this early age. Then there was the 2009 Monvigliero, a top vintage according to Wine Spectator, that was also tasting well now yet has cellar potential for at least two decades. The 2013 Monvigliero Barolo DOCG was also a favorite despite its youthful age.
Aside from the excellent, well crafted wines, what was best about the evening was the personal visit of Luca Bosio himself, who was incredibly passionate about this terroir (you can see it in the way he holds up the map) and the way he underscores the importance of quality in the wine.
In Piedmont, quality is determined both by terroir and also by the approach to winemaking. Luca adheres to a more traditional approach to winemaking, using larger, older oak (a lot of Slovenian oak) to ensure a long lived wine.
It was really a pleasure to meet him and experience his wines.